Plan of the limits of the Town of Brisbane (1843)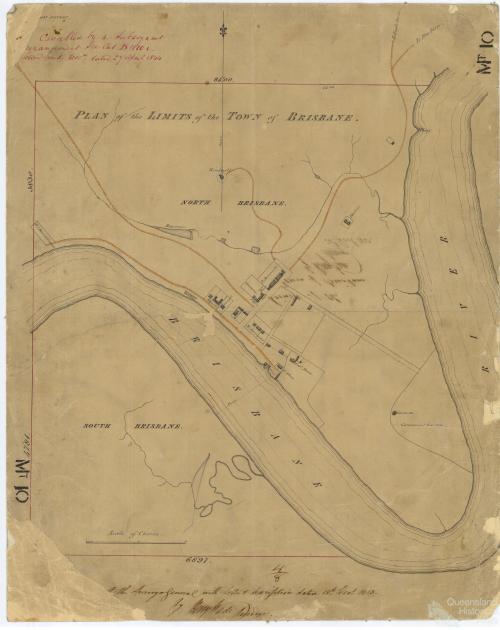 Originally established as a penal colony in 1824, Brisbane was opened to free settlement in 1842. This 'Plan of the limits of the Town of Brisbane' shows the extent of what must have existed in Brisbane at around that time.
The original is held by the Queensland State Archives, and you can explore the digitised version via the Queensland Historical Atlas.
In addition to the few buildings and roads marked on the map, there are also some fascinating natural features. For example, notice the creek that begins up in Spring Hill and flows down towards a small dam which is right on top of where the new law courts are today. This was Brisbane's first water supply. The stream continues through a small pool at King George Square and flows to the river near Creek Street. Across the river, nothing is marked in South Brisbane except for a creek that winds through the Convention Centre and Southbank Parklands (where there are now artificial streams).
Google Earth portal
You can explore a specially prepared version of this map in the Google Earth window below. (You may need to zoom in a bit first to see the map clearly.)
Google Earth data
You can explore this map in the standalone version of Google Earth by opening (or downloading and then opening) this file.
Last modified: April 13, 2013